Bazooka 110 LE MANS R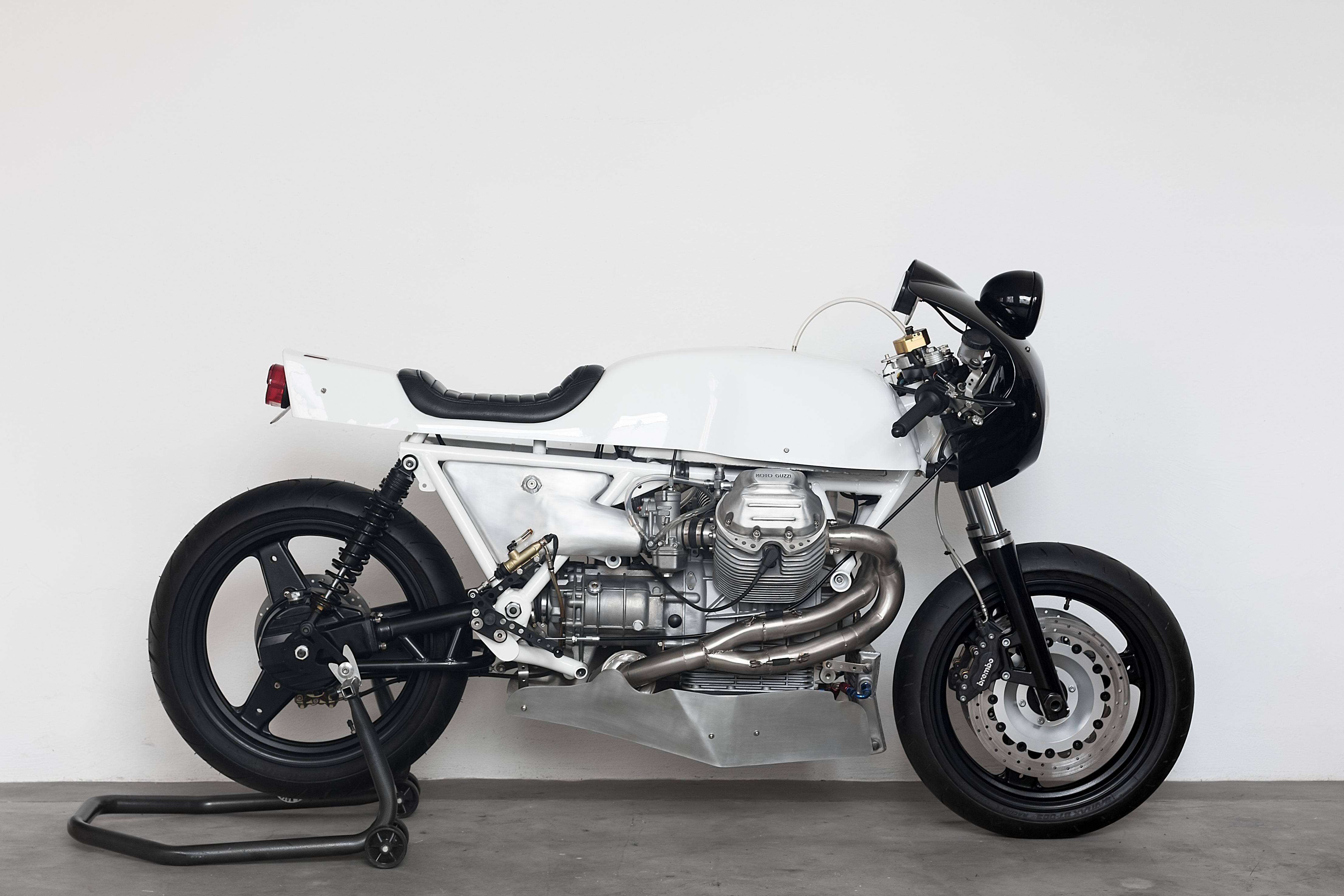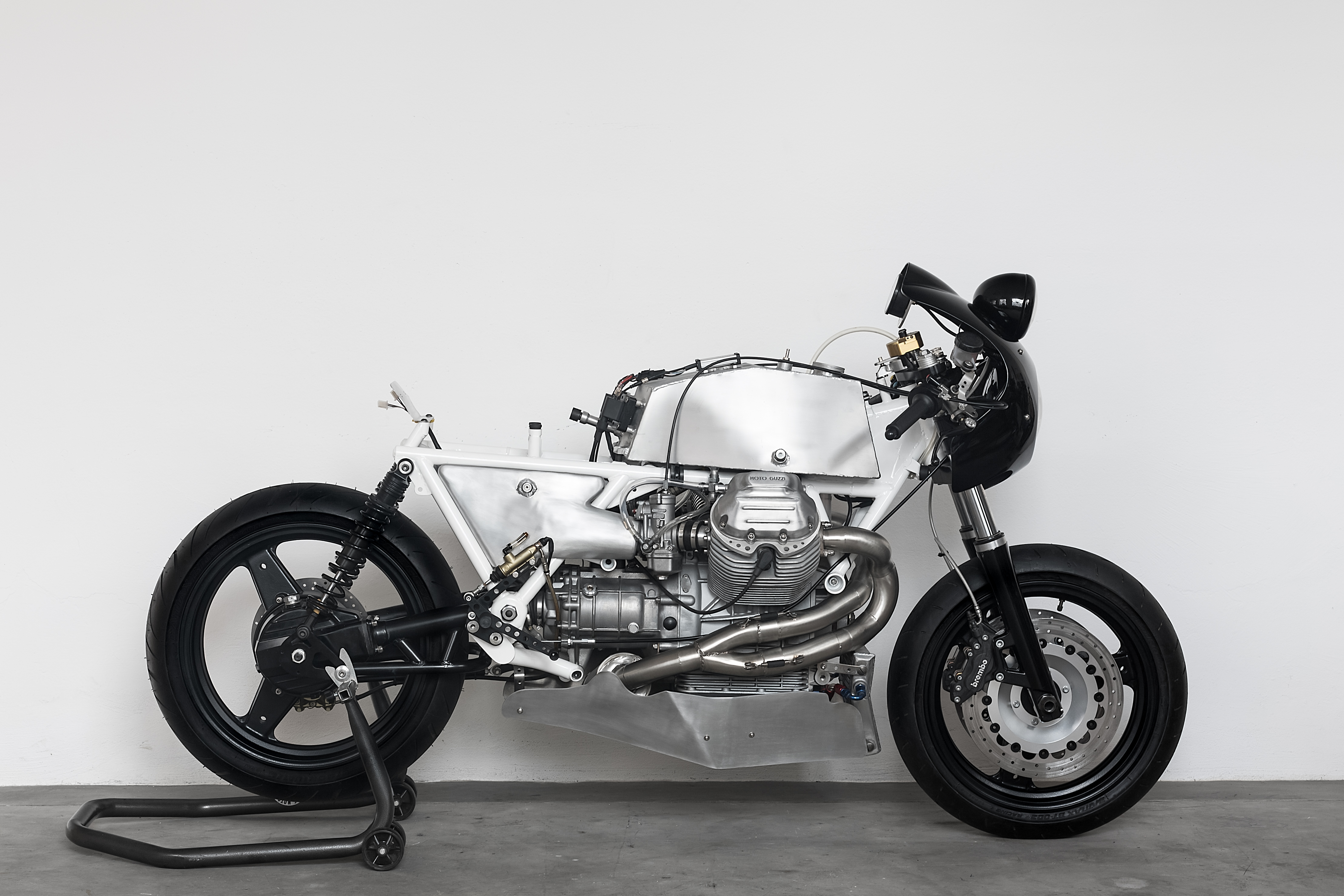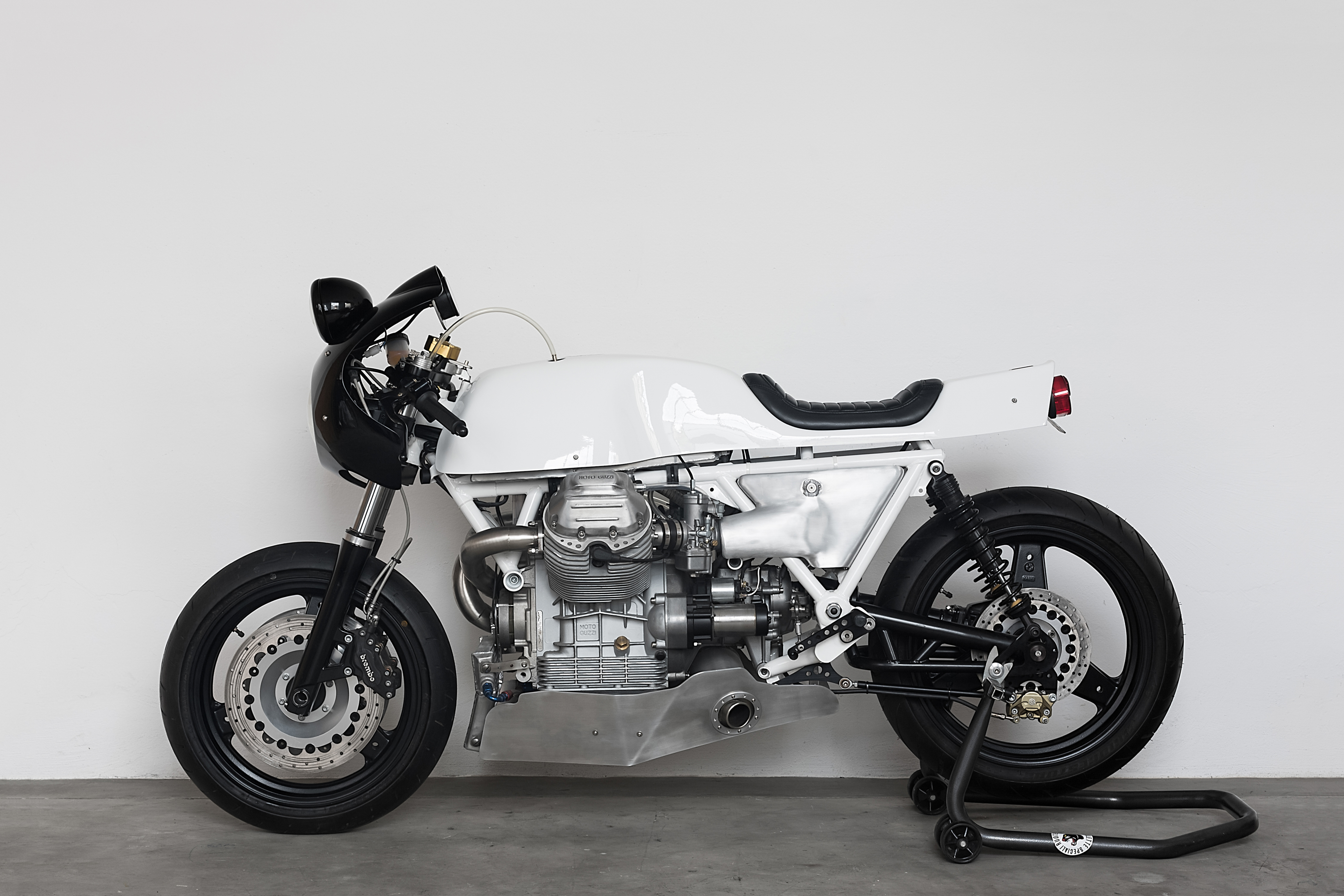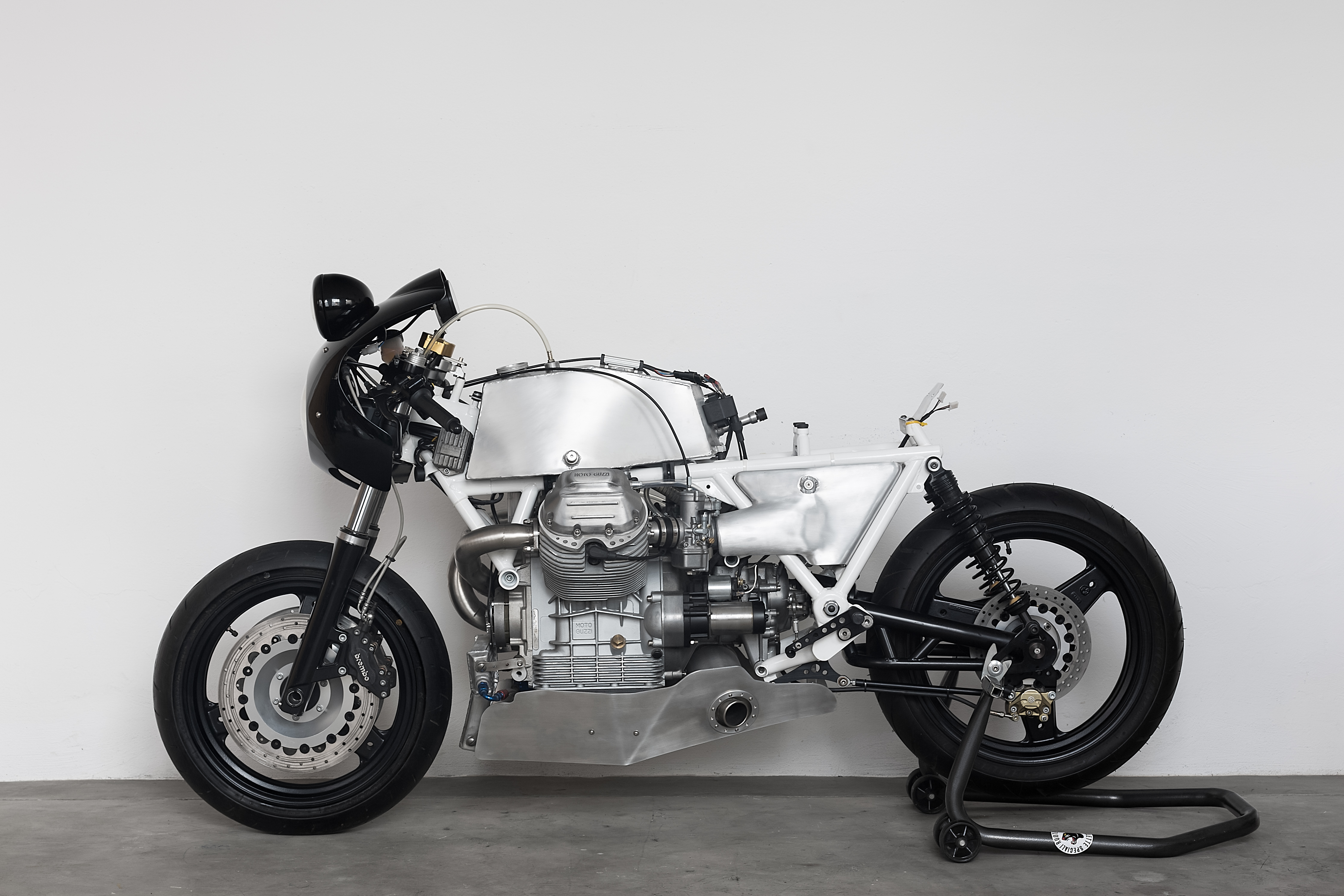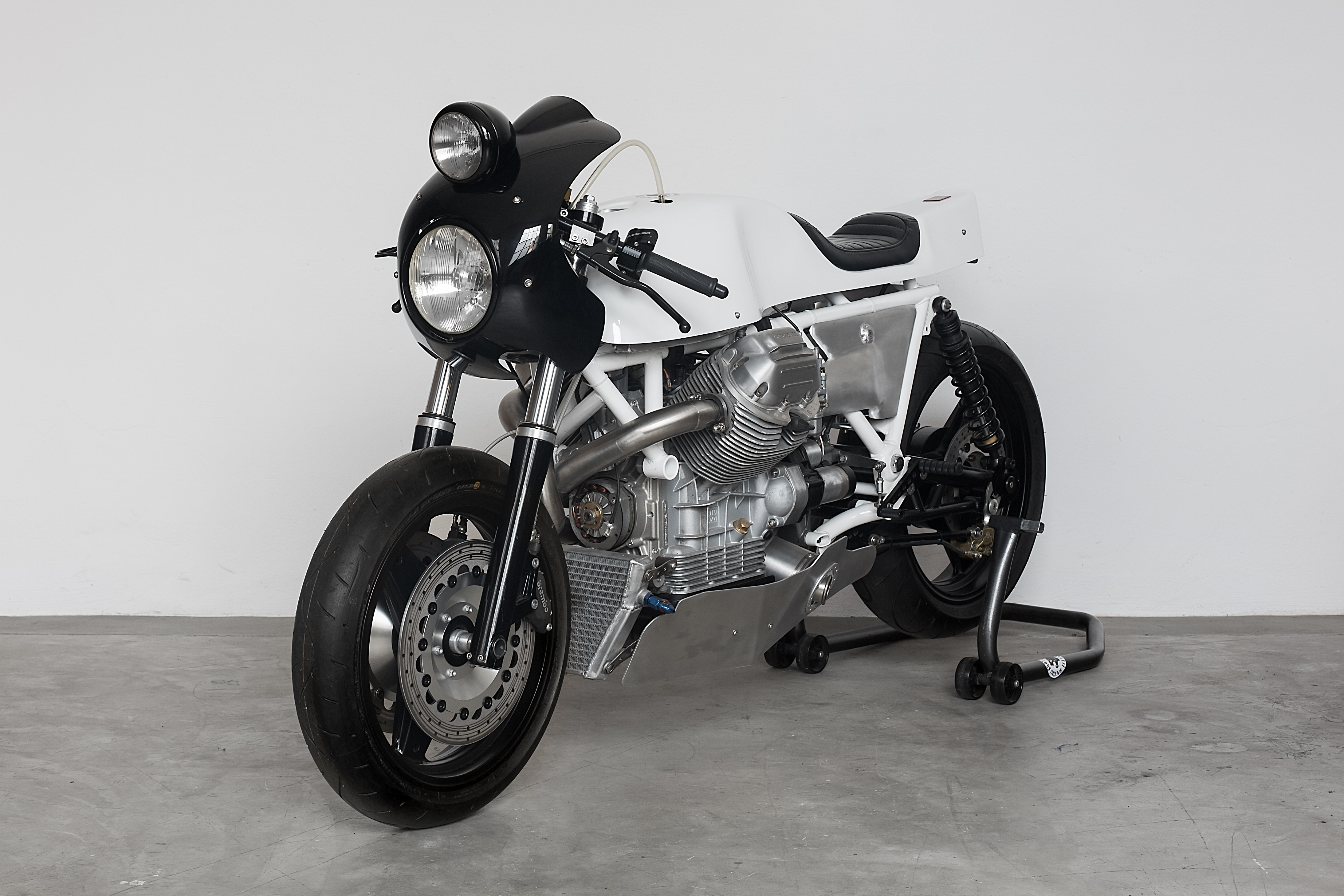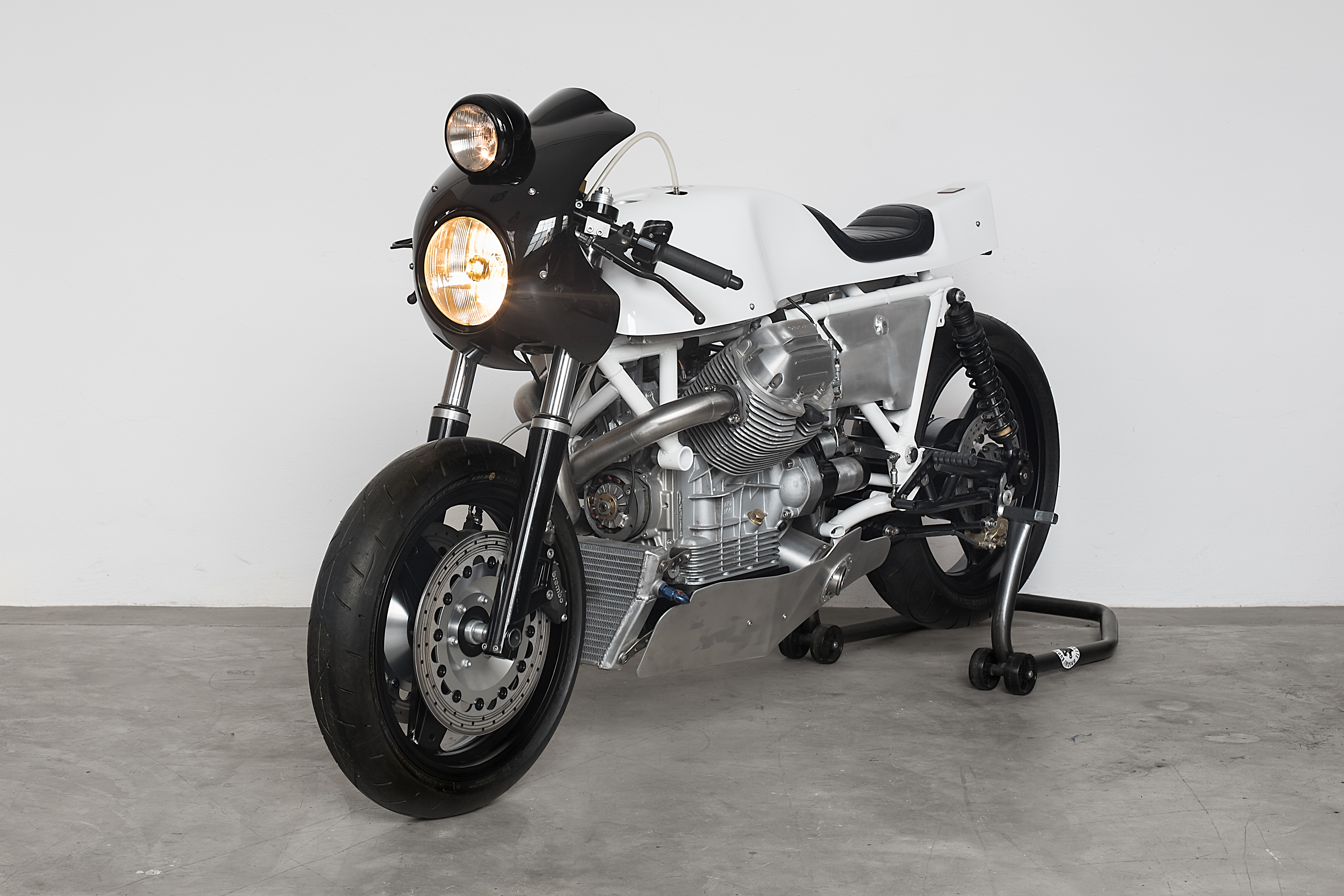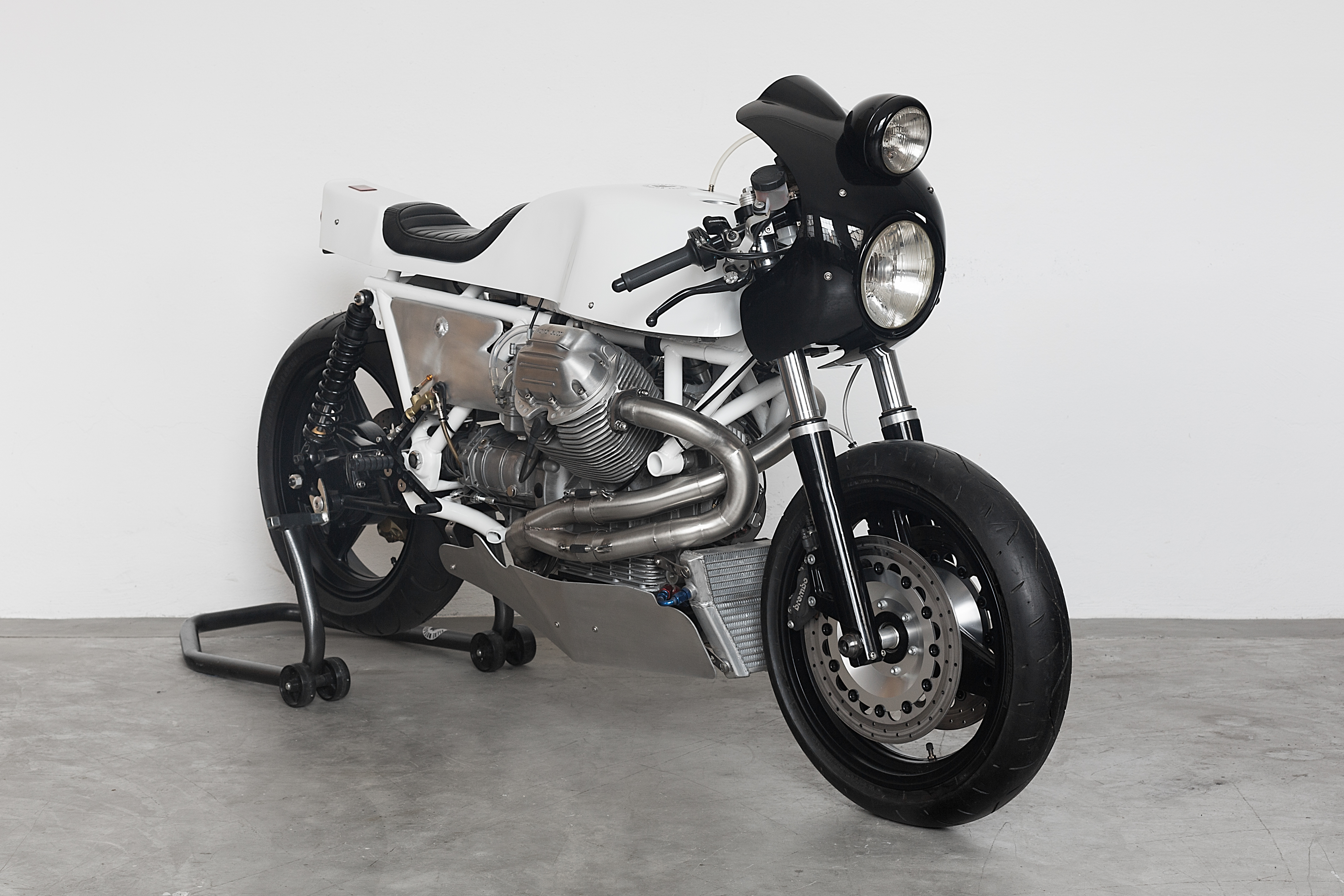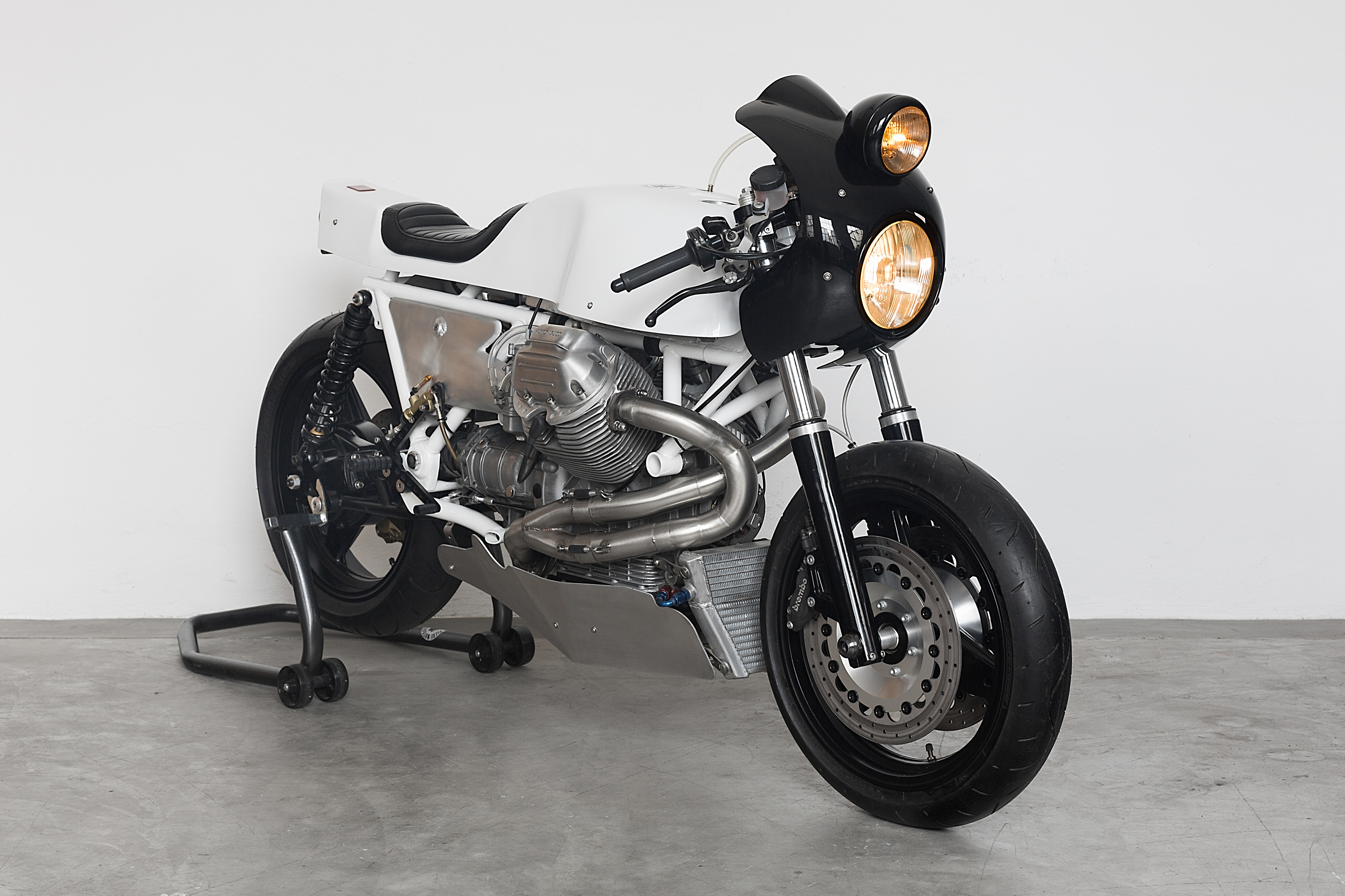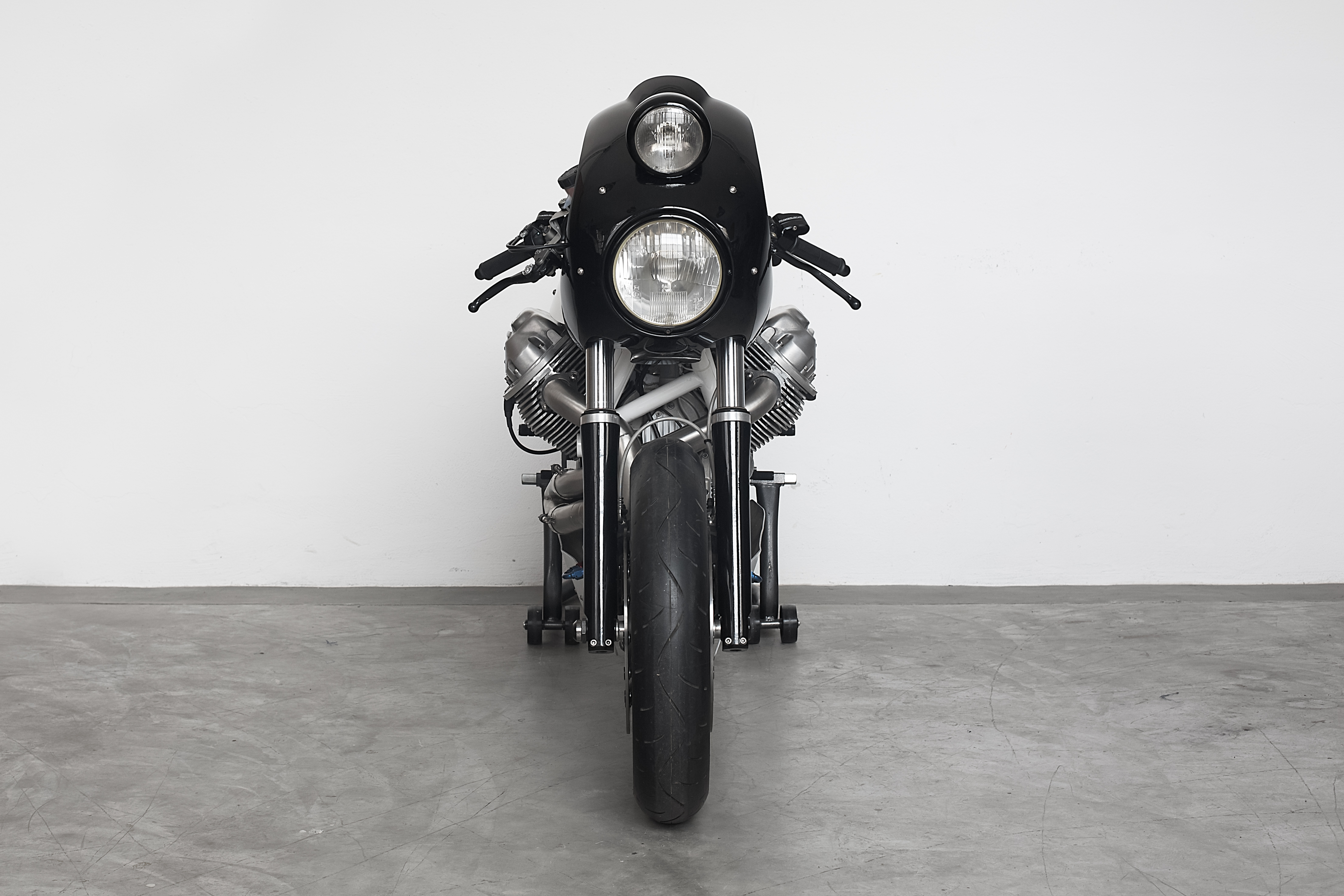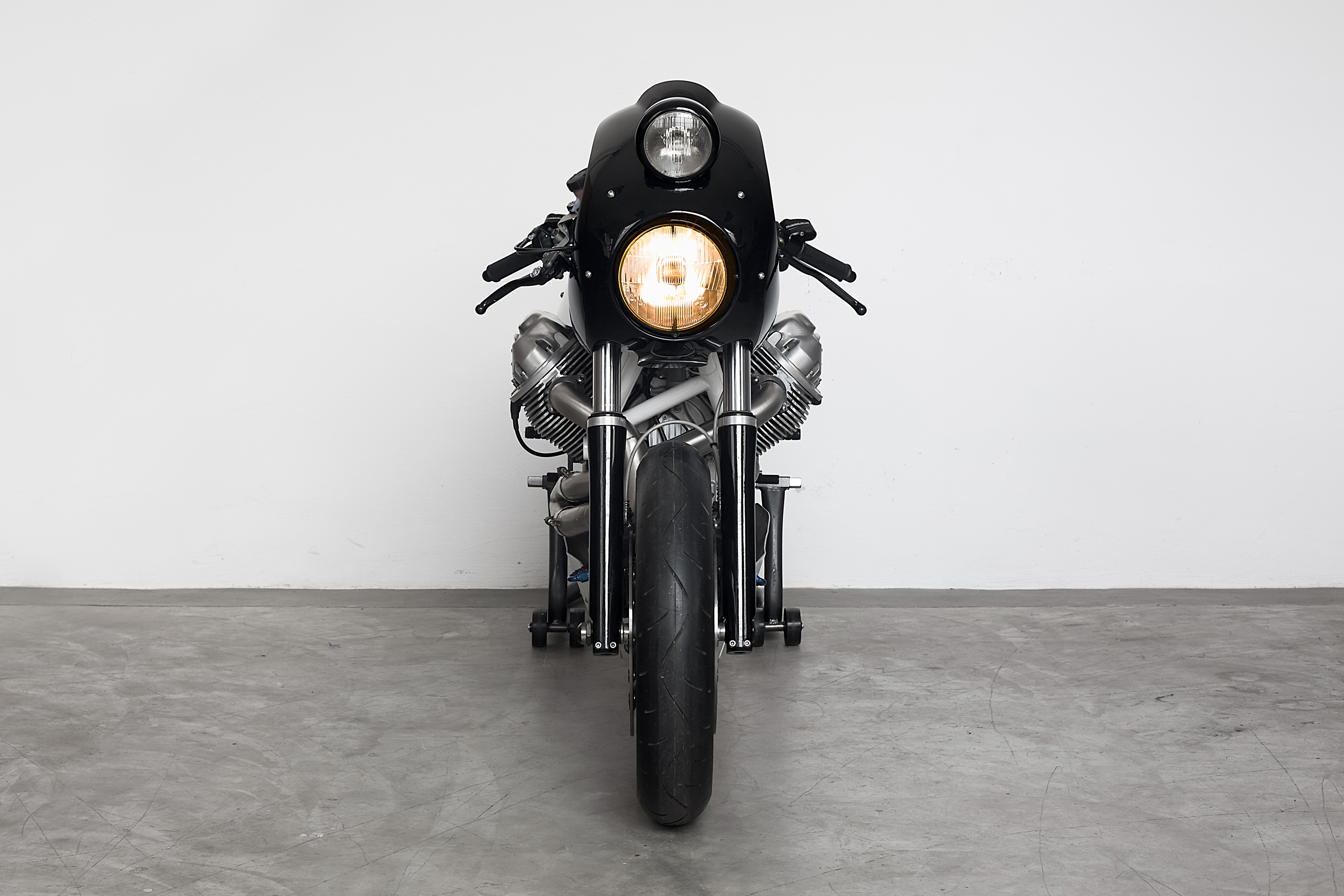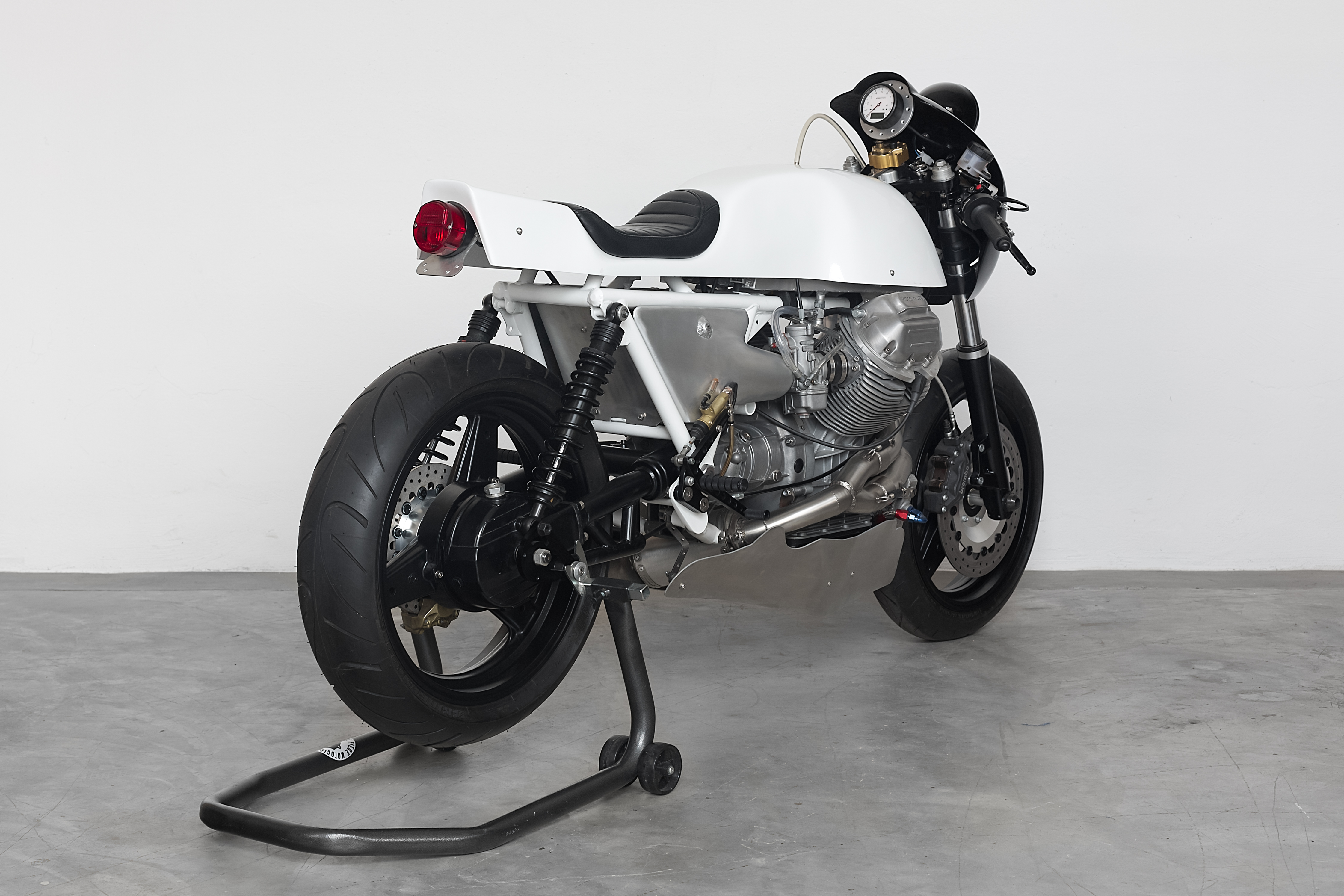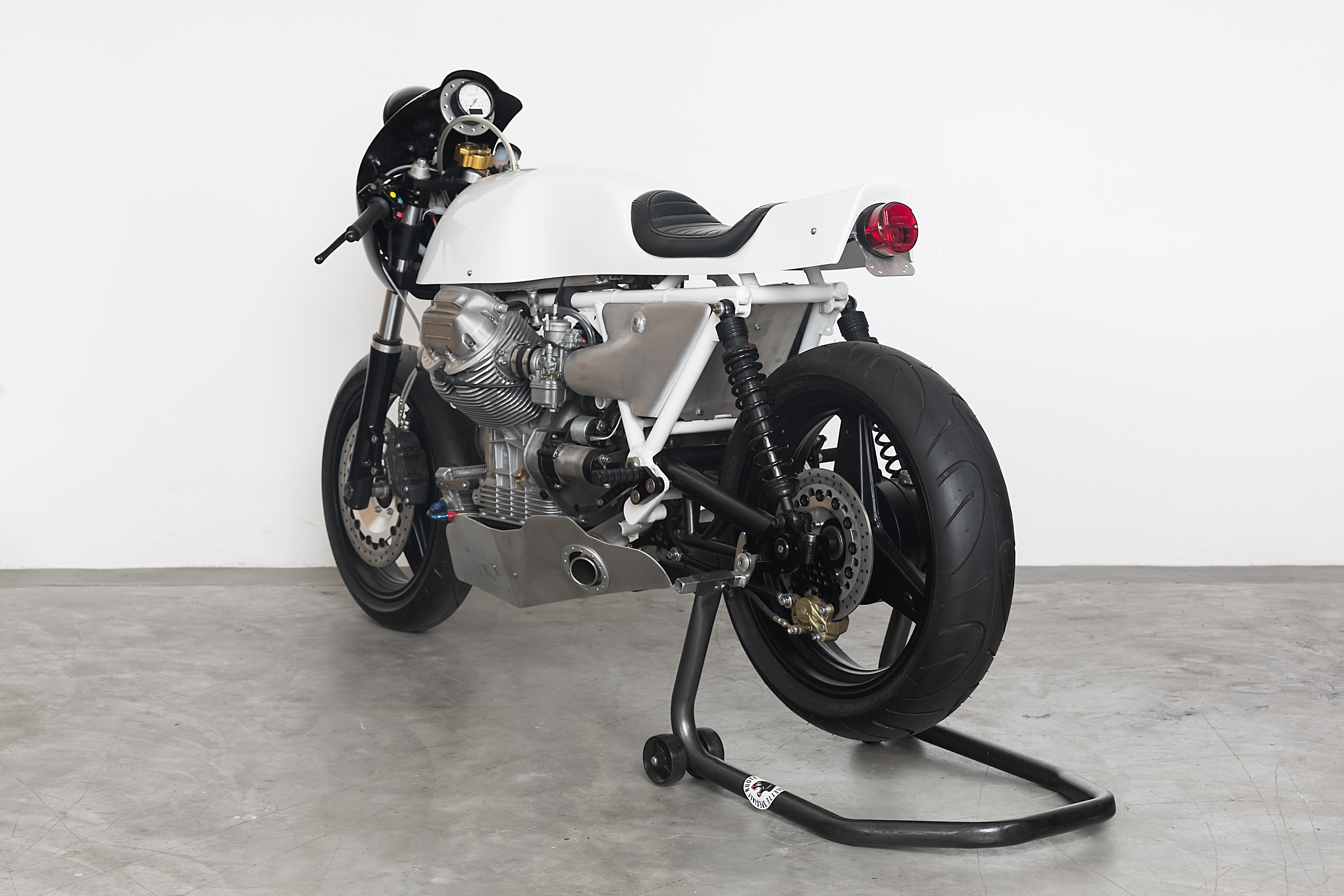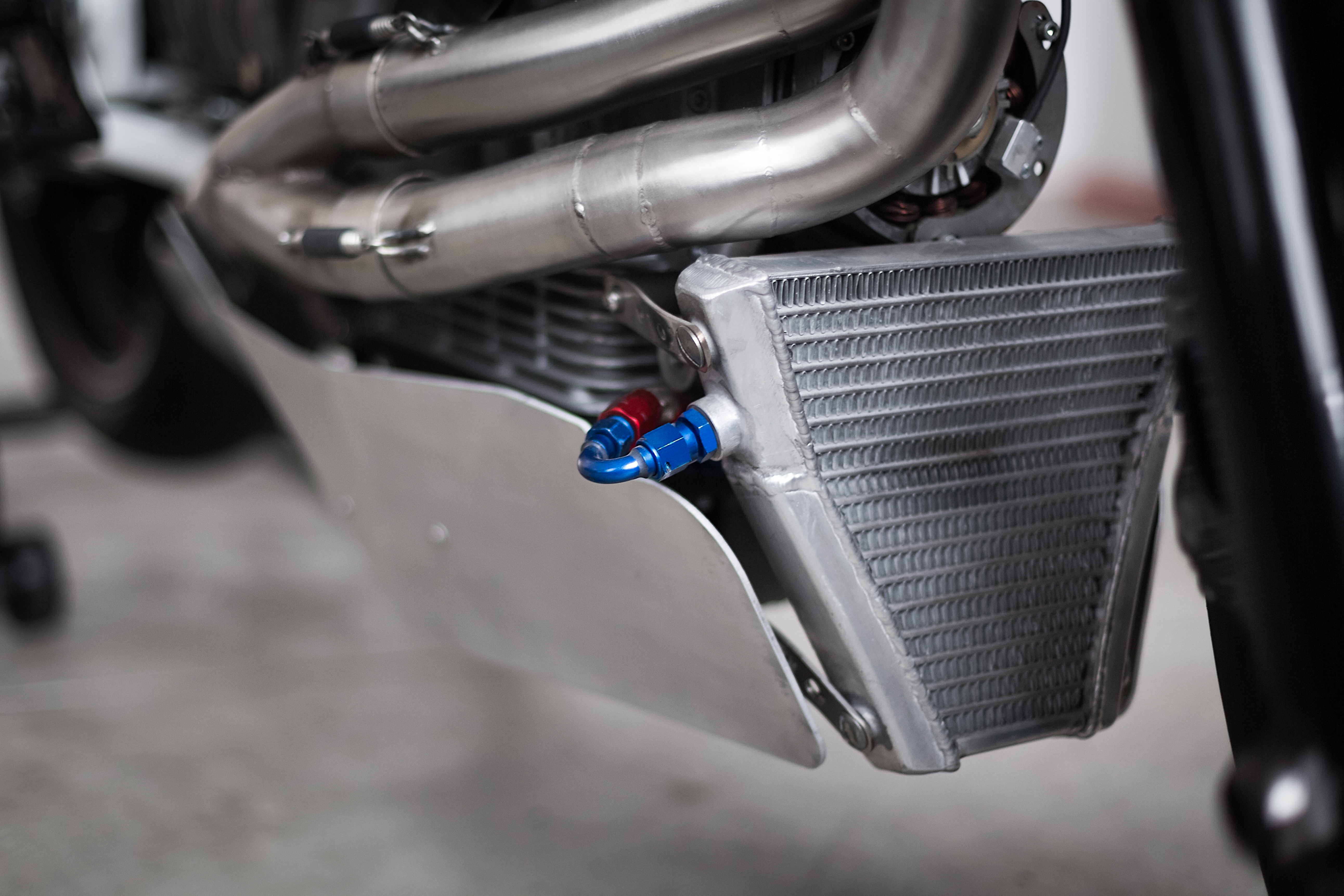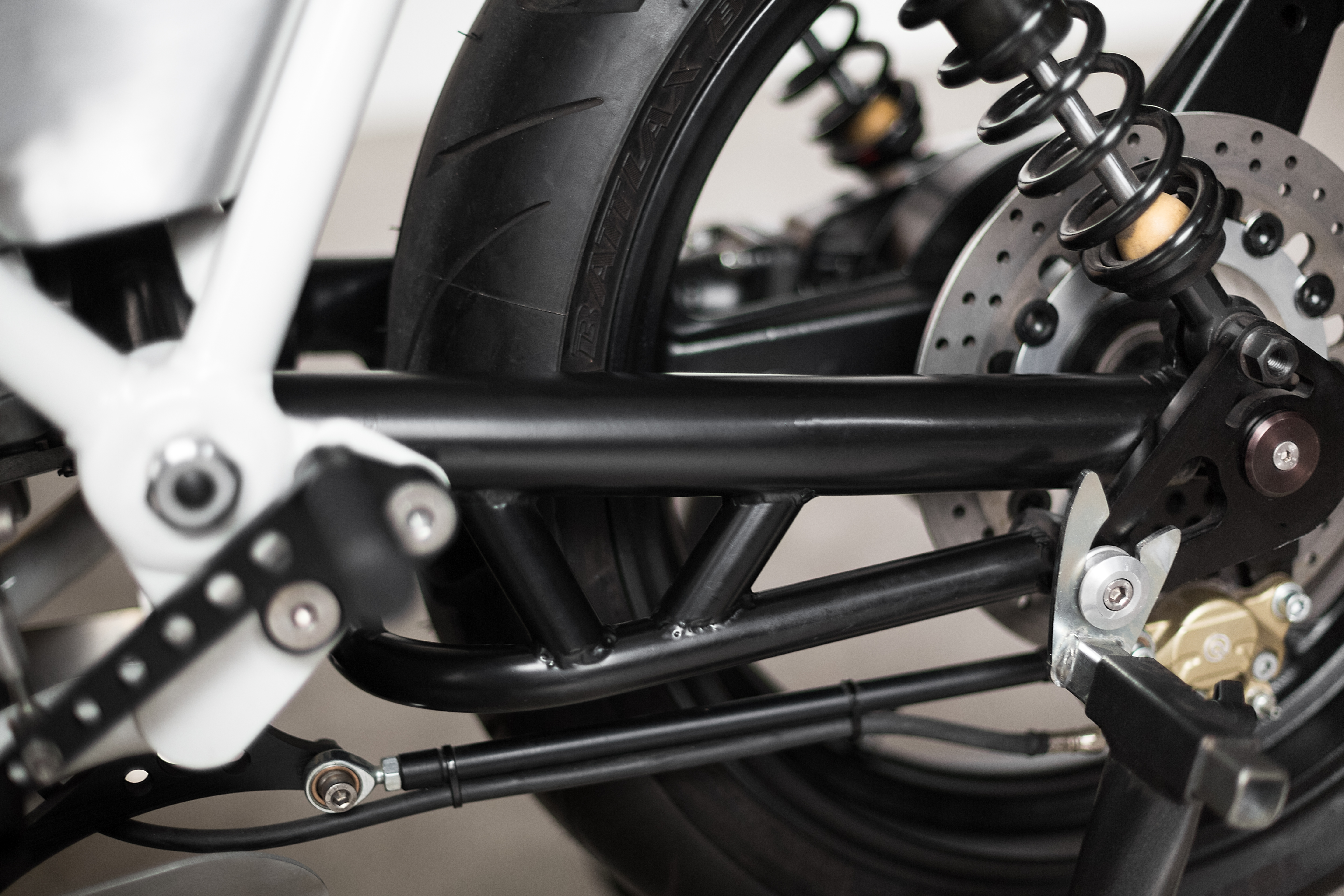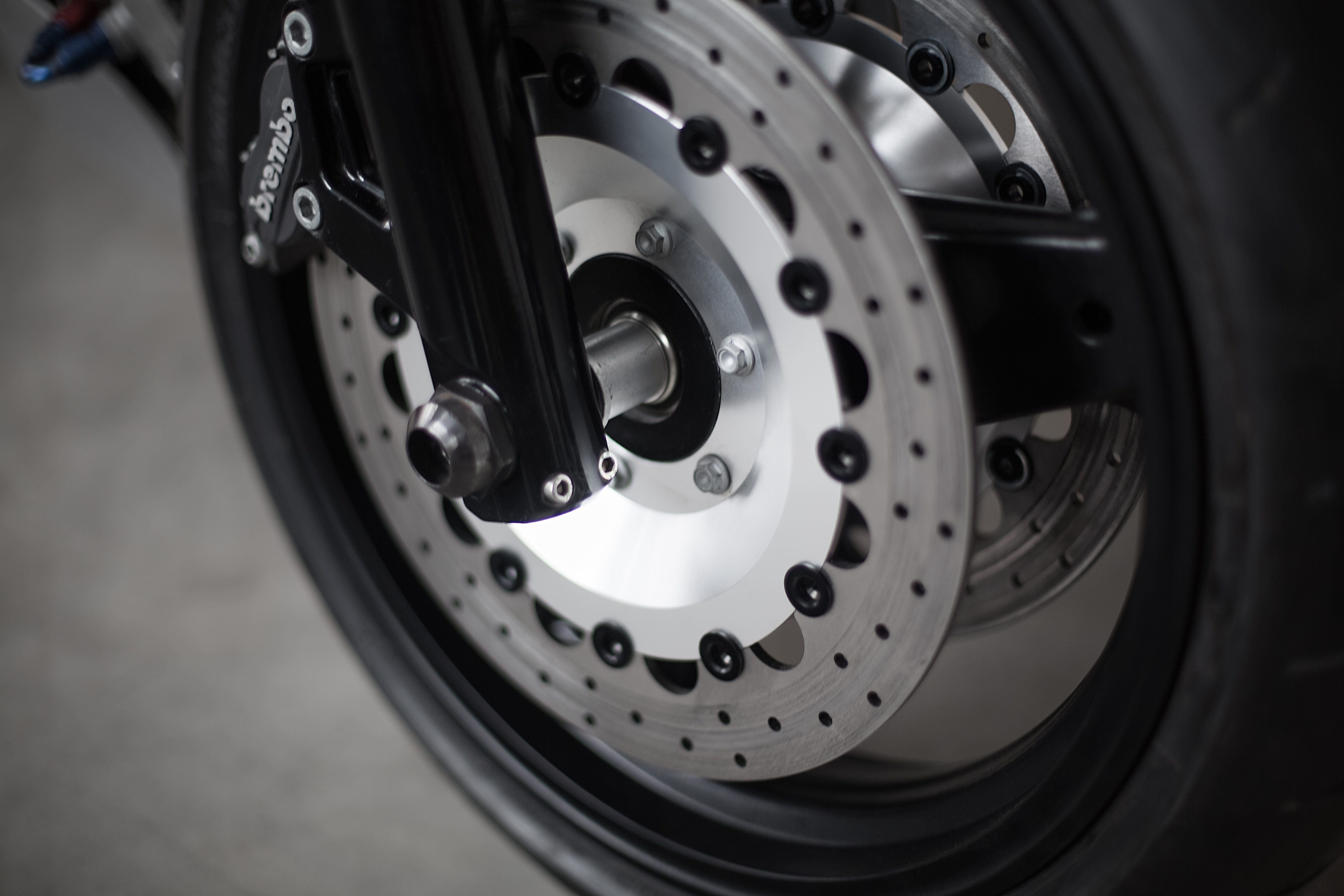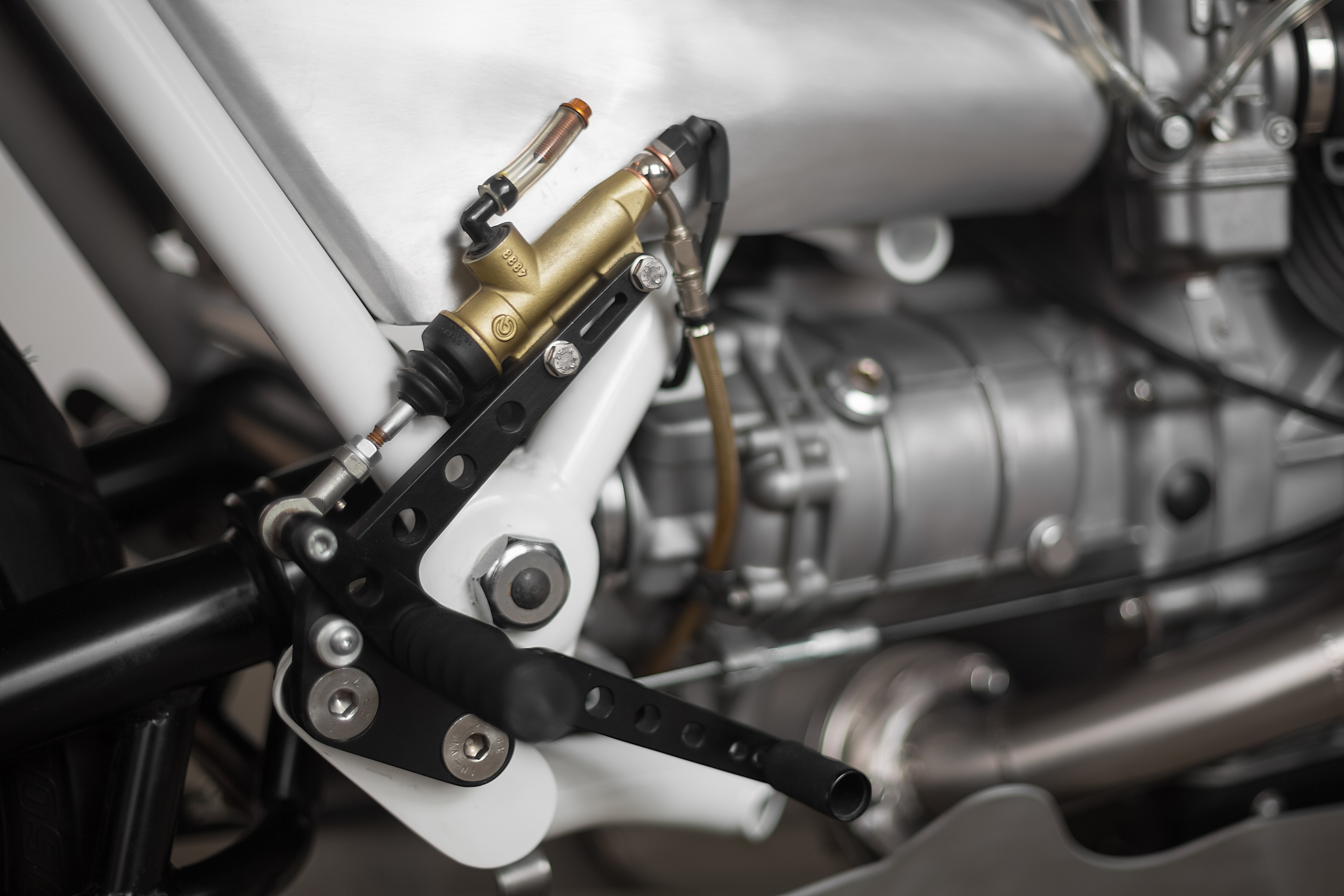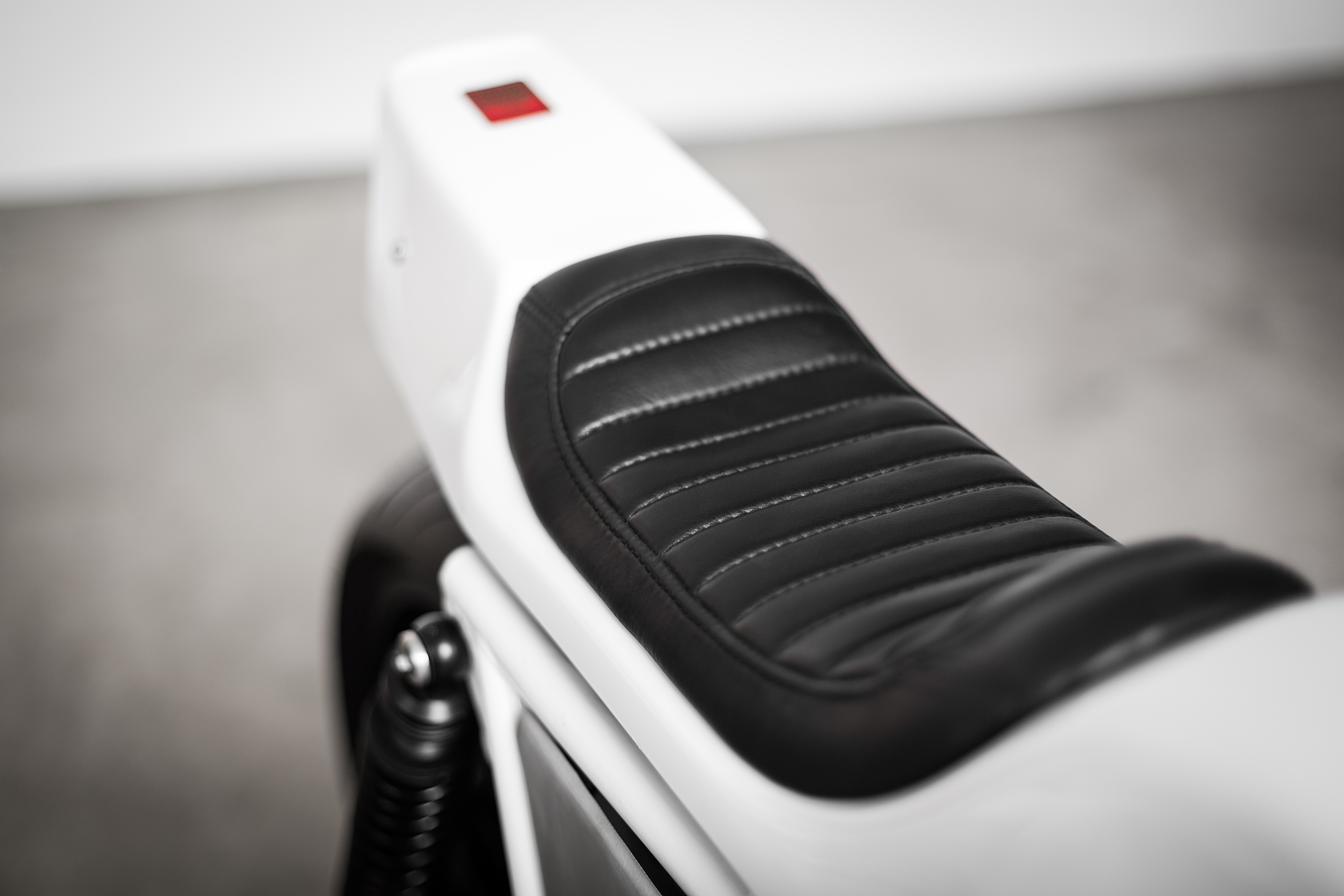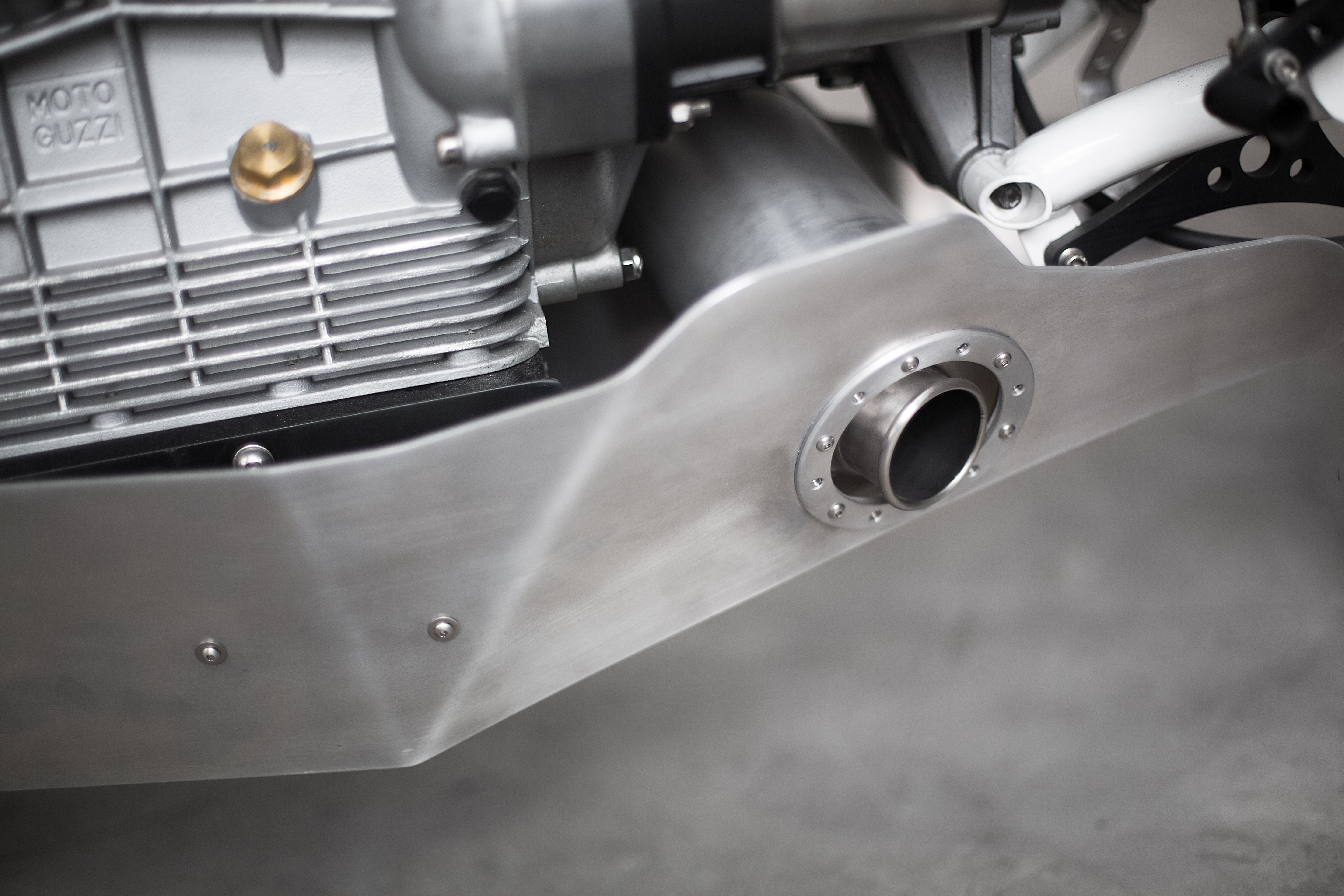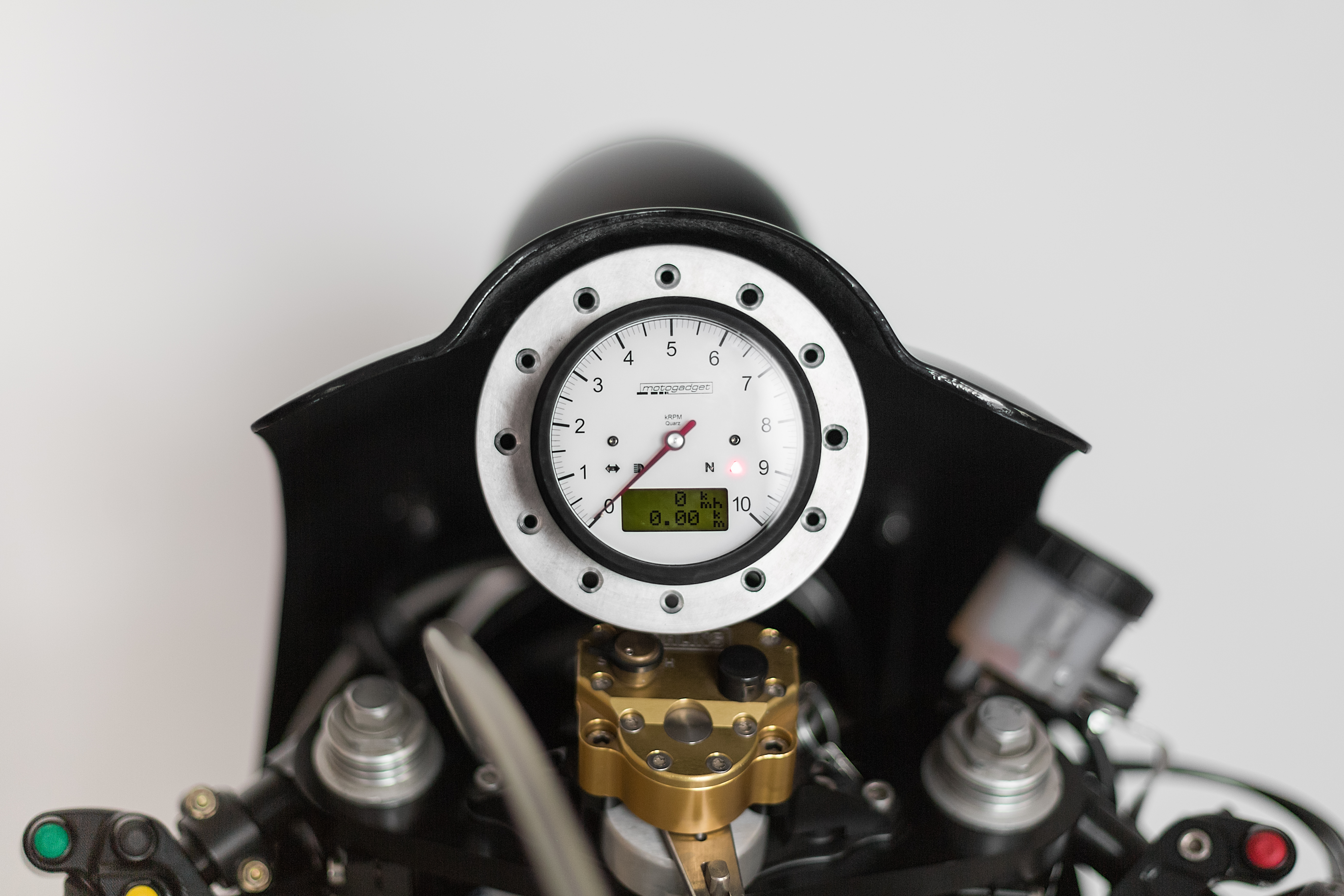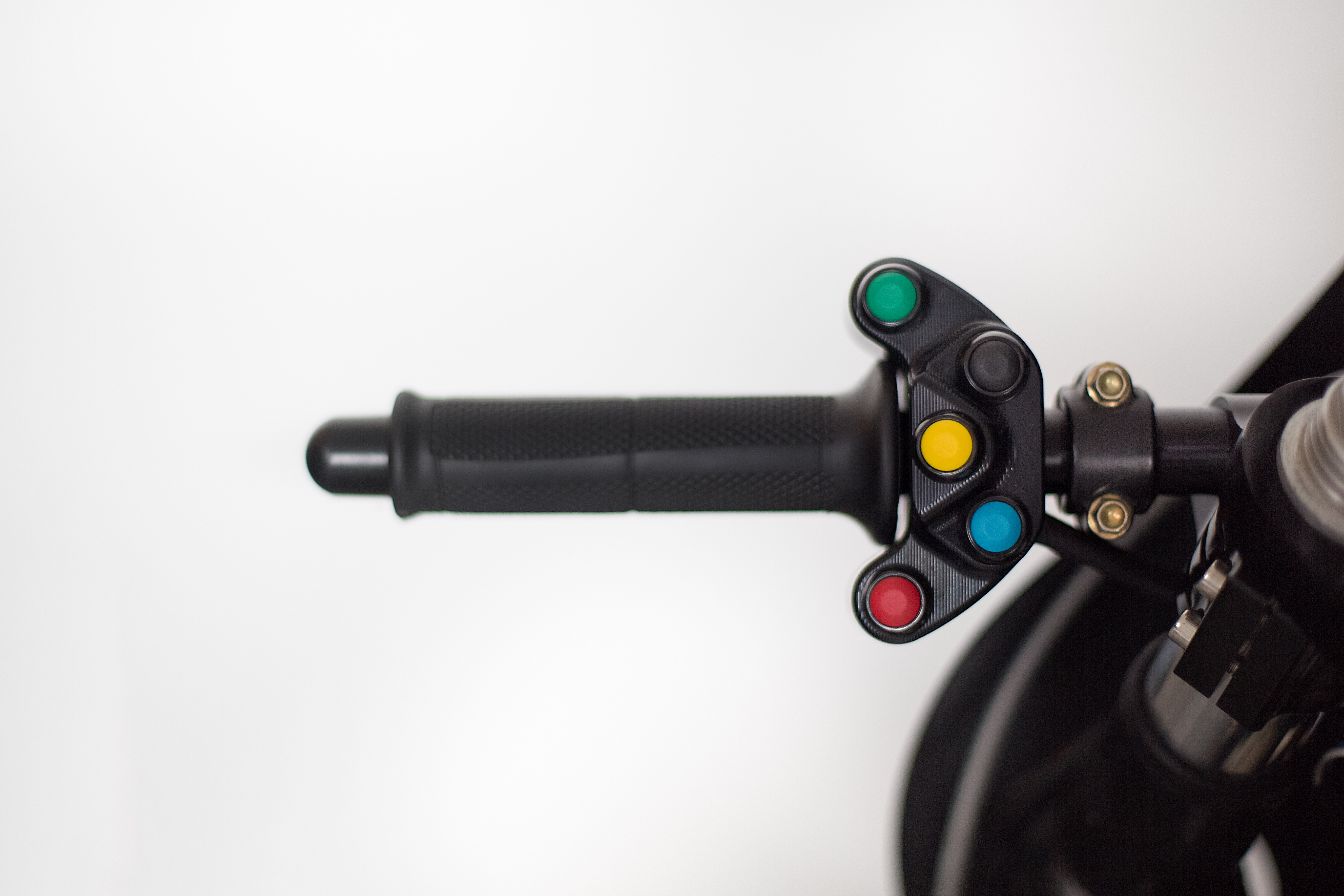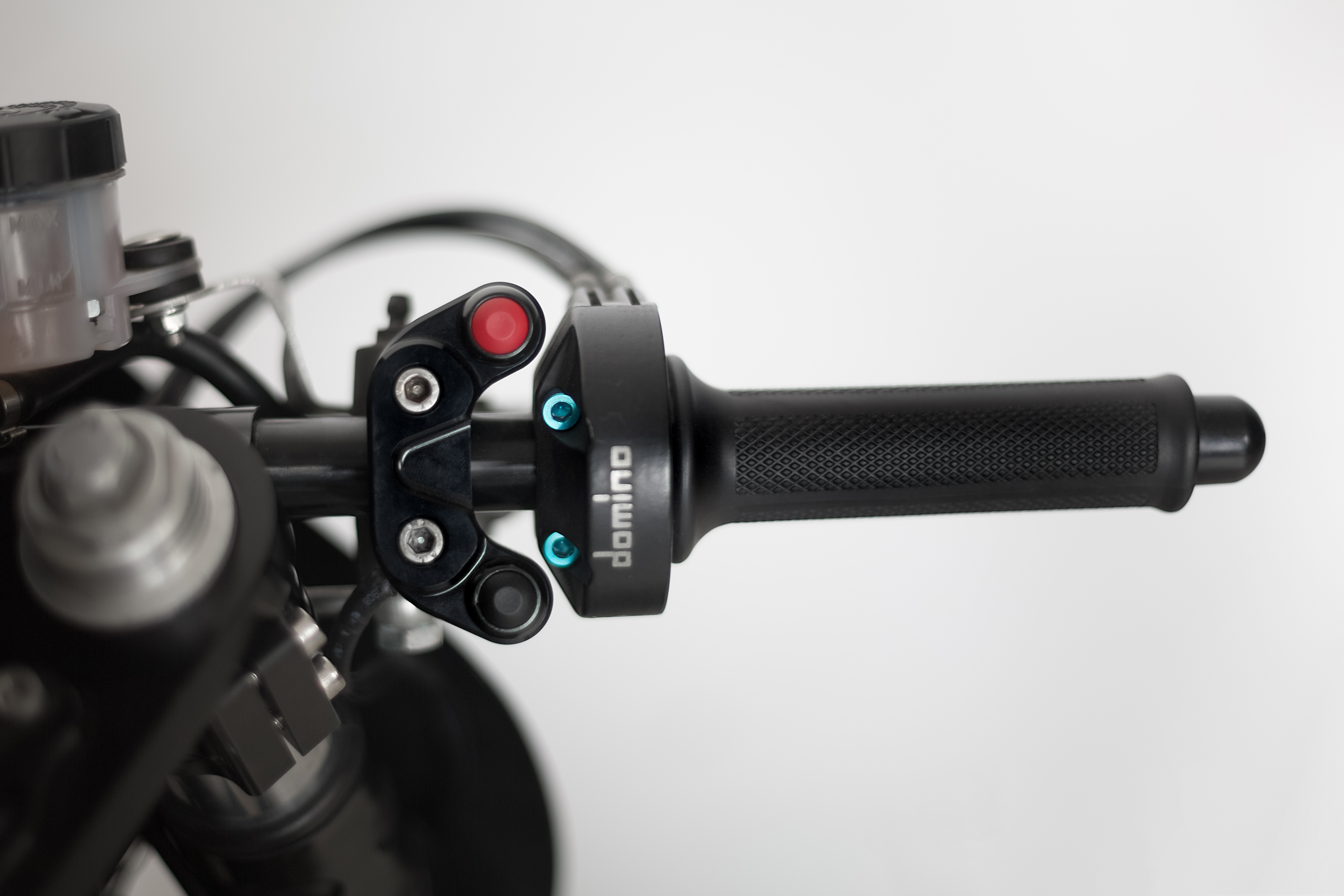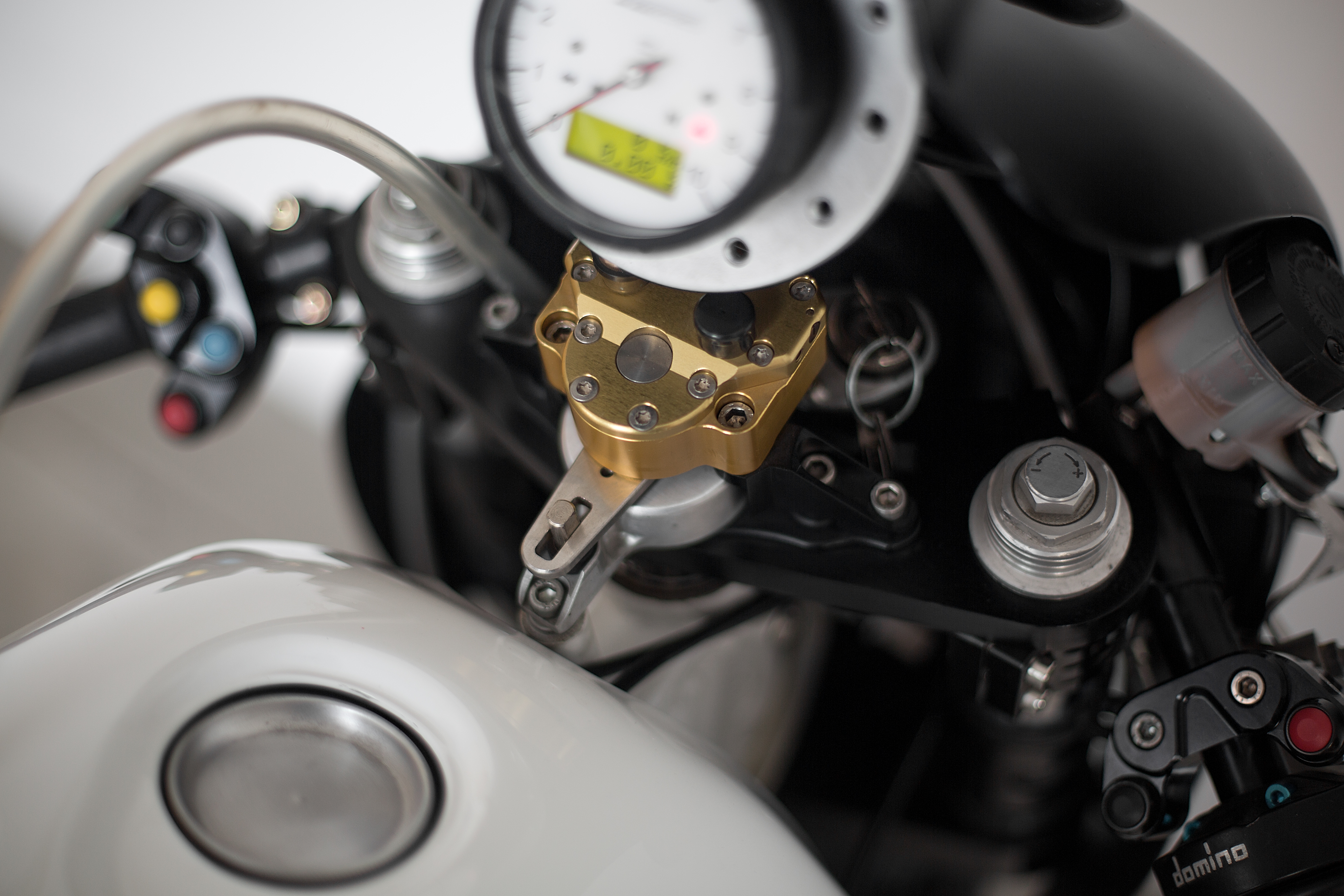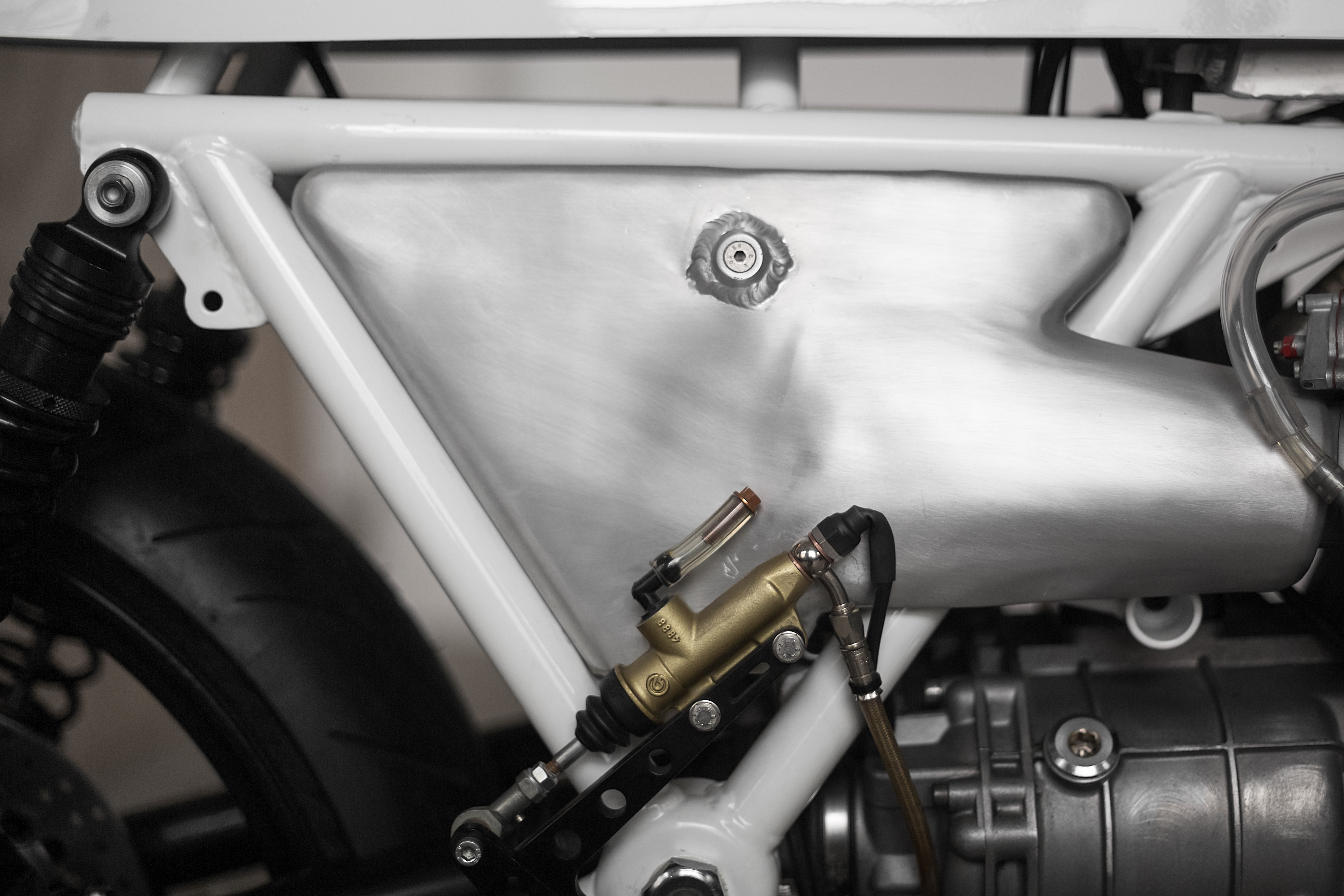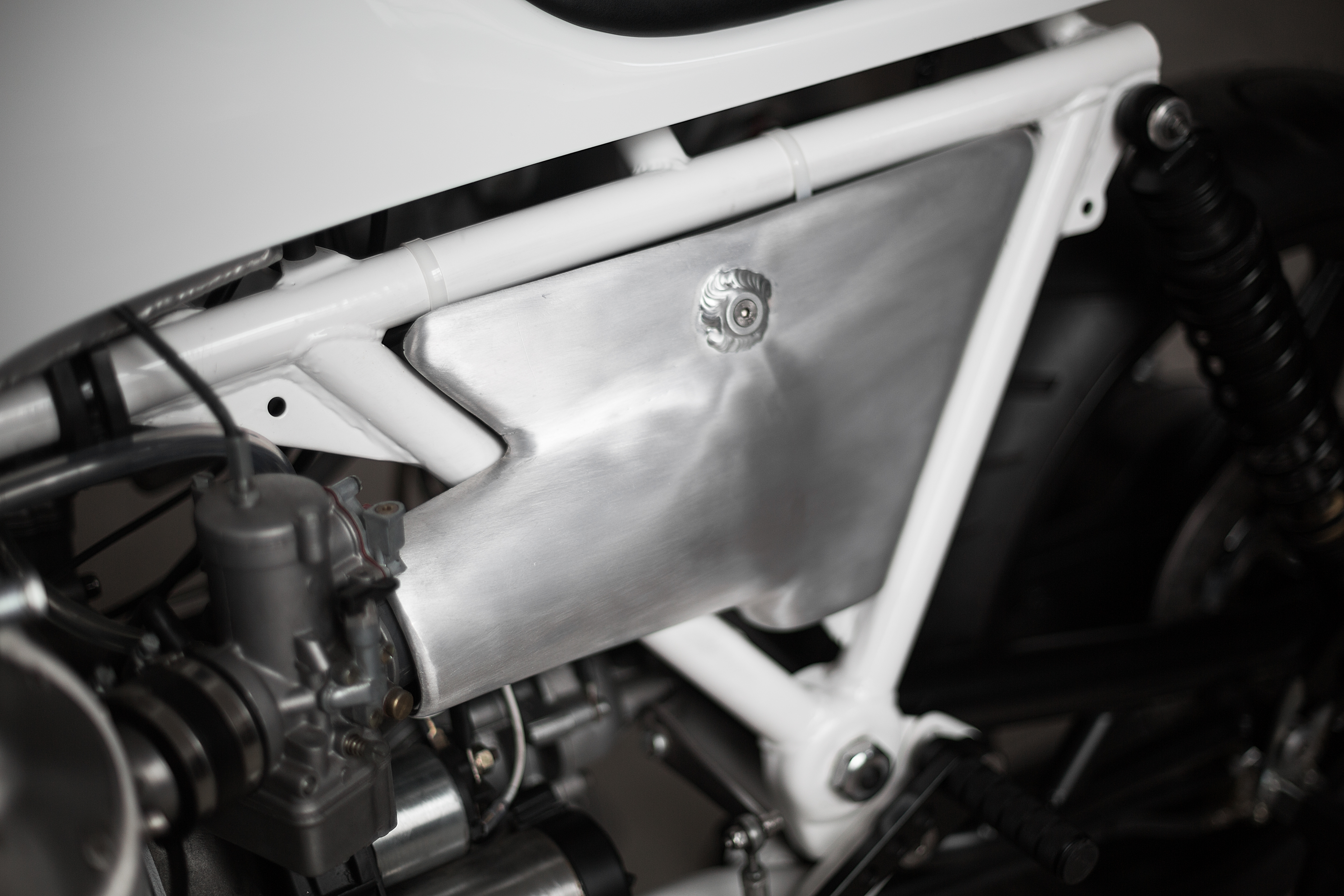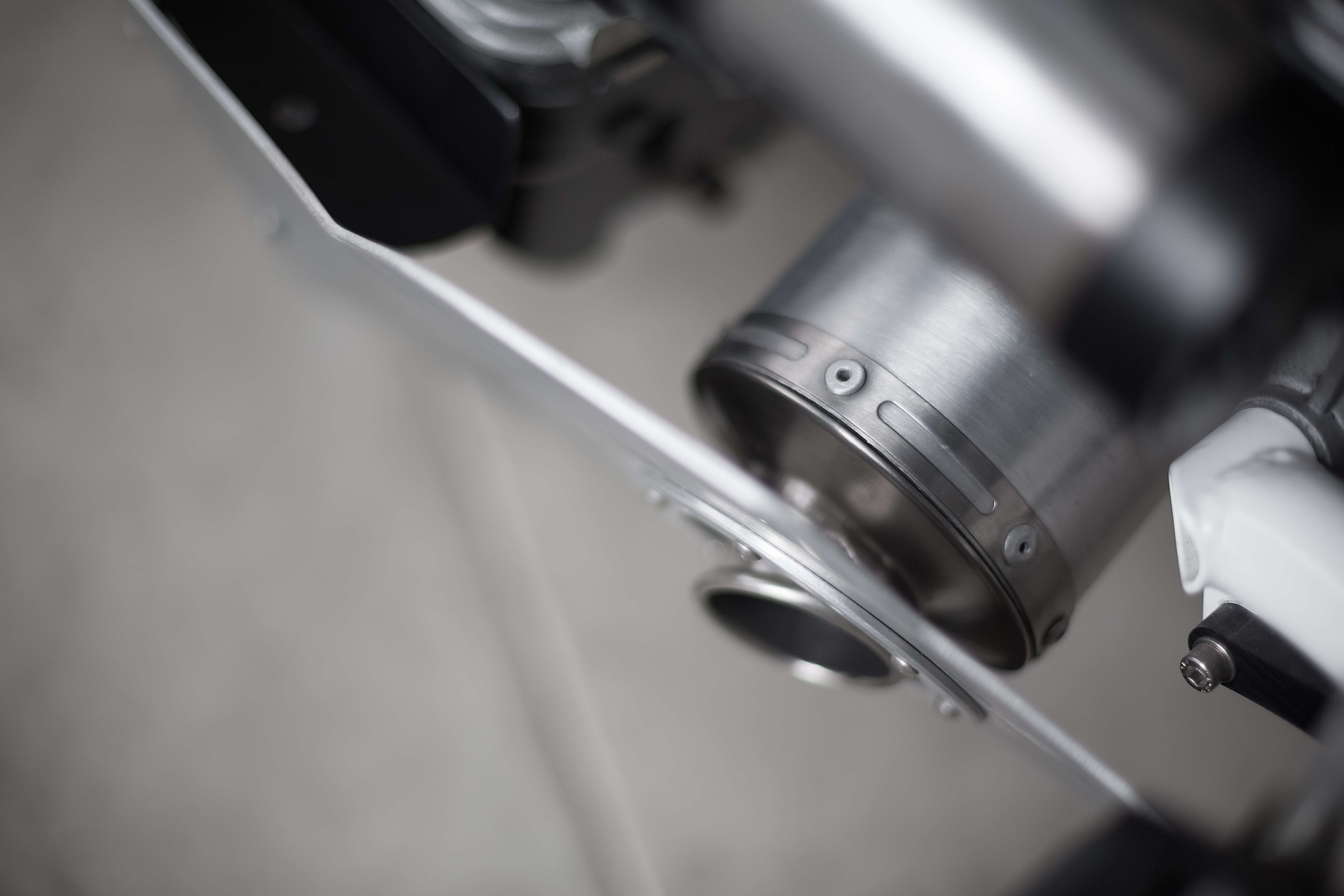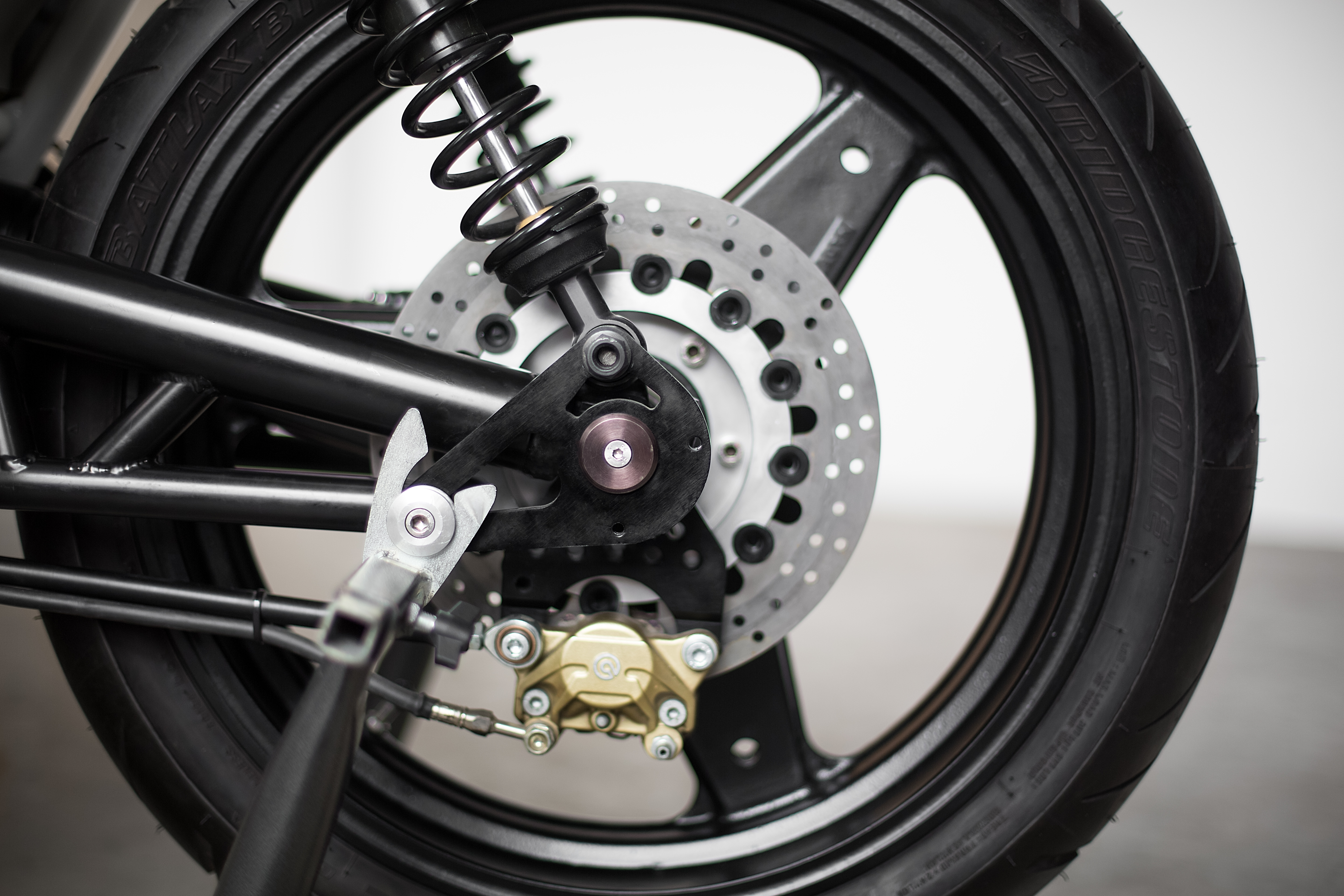 Bazooka 110 LE MANS R
1100cc 1984
Chassis:
— Modified Frame from open pipe TONTI LEMANS 3, reinforced and stiffened, engine load-bearing, steering box reinforced with integrated vapor recovery oil tank, headstock closed at 24 °, motor raised anteriorly, support beams upper crankcase exchange
— EPM MAGNI® Rims aluminium 3 spokes
dim.:
front 17 X 3.50
rear 18 X 4.50
— Tires Bridgestone Battlax
dim.:
front 120/70 X 17
rear 150/60 X 18
— Avantreno costituito da forcella in alluminio Marzocchi® con foderi modificati con steli da 45mm. Triple clamps Ergal Billet CNC black anod. with Ergal handlebars billet CNC black anod.                                                                                                                                                                                                                                                                                                   — Rear stereo shocks custom made by ORAM with OhLins components, alu CNC billet black anod., black  spring . compression adjustable                                                                    — Rotary Stearing dumper OhLins gold anod                                                                                                                                                                                                                                               — Guzzi LeMans 4 modified swingarms for wide rim, lower reinforced and sides anticordal 7075 plates cnc black anod. for paddock stance.
— Brake kit double discs front semifloated / single disc rear semifloated
Front: 2 discs Ruote Fiere® specific custom made, diameter 320mm., brake lane in stainless steel straight, balanced and hardened, central hub in anticordal 7075 billet CNC silver anod., camber like BREMBO® RACING "88,Ergal nuts, black anod. DUCATI MULTISTRADA BREMBO® triple bridge with BREMBO® radial pump
Rear: single disc Ruote Fiere® specific custom made, diam. 240mm., brake lane in stainless steel straight, balanced and hardened,central hub in anticordal 7075 billet CNC silver anod., specific custom camber, Ergal nuts, black anod. DUCATI 1098 BREMBO® Caliper on Ergal billet CNC plates floated controlled by a reaction rod  with  SKF® uniball; BREMBO® gold series pump
— Rear seets Ruote Fiere® movement on bearings, mede for Moto Guzzi Tonti frame
Motore:
— Bicilindrico a V di 90°, 4 tempi, 2 Valvole per cilindro, raffreddato ad aria/olio tramite radiatore racing in alluminio con condotti in treccia aereonautica e raccordi in ergal e coppa maggiorata cin passaggio olio esterno, albero a camme speciale
— Cilindrata portata 1100cc.
— Potenza 90cv, 9000 giri/min
— Alesaggio 83,0 X corsa 74,0
— Carter distribuzione primaria speciale made by MANDELLO RACING
— Accensione elettronica speciale Silent Hektik con bobine single coil e centralina elettronica, eliminazione completa dello spinterogeno                                                                            — Impianto elettrico completamente riprogettato, con kit speciale alternatore + regolatore di tensione DUCATI ENERGIA, centralina elettronica M-UNIT- MOTOGADGET®, strumentazione CHRONOCLASSIC-MOTOGADGET®, comandi a manubrio CARRARO ENGENEERING®
— Dell'Orto® PHM 40mm.
— Frizione Monodisco a secco Racing RAM®, alleggerita e bilanciata
— Volano alleggerito di circa 3,2kg
— Cambio a 5 rapporti, sequenziale sempre in presa
— Scarico artigianale 2 in 1 in acciaio inox con sviluppo asimettrico e finale speciale Leovince in alluminio
Dimensioni:
— total lenght 2100mm.
— wheelbase 1450mm.
— weight 178kg
Parti estetiche:
— Boxed Peraluman Tank hand-made, 2,2kg Ergal Billet CNC CAP BIMOTA style, big fow fuel petcock valve
— Cover monococque composite, design RUOTE FIERE®                                                                                                                                                                                                              — Estrattori aria per radiatore olio realizzati su disegno in peraluman
— Colorazione monoblocco concrete white and black RUOTE FIERE®
— Cupolino RUOTE FIERE® tipo LEMANS 1 con doppio faro e cockpit bullet.
— Fianchetti in alluminio battuti a mano design RUOTE FIERE®                                                                                                                                                                                                            — Flangia speciale per protezione candela e adattatore per montaggio coperchi valvole serie LeMans 1